Home
About Art & Archives
About Sid Richardson Museum
About the National Archives
Primary & Secondary Sources
Lesson Plans
Vocabulary
Painting Analysis Worksheet Contact Us
Reference Websites
Bibliography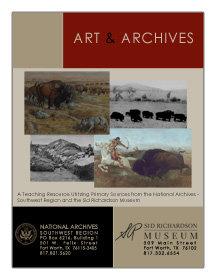 Click the cover image above to view and download the complete 2006 ART & ARCHIVES Lesson Packet

Background
The ART & ARCHIVES (2006) Teaching Resource is the result of a partnership between the National Archives and Records Administration (NARA) – Southwest Region, and the Sid Richardson Museum (SRM), both located in Fort Worth, Texas.
The inspiration for this project began when Meg Hacker, NARA Southwest Region Director of Archival Operations, and her staff toured the Sid Richardson Museum. Mary Burke, currently Director of Gallery Programs at the Sid Richardson Museum, reciprocated by bringing the docents from the Museum to the Southwest Region.
It occurred to Mary and Meg that while their respective institutions were distinctive, there was an opportunity to collaborate and bring the experience of the American West to life for students by linking the rich primary sources from the Museum and the Archives.
Acknowledgments
The ten lessons in the ART & ARCHIVES Teaching Resource were written by Fort Worth Independent School District (FWISD) 8th Grade Social Studies Teacher Mishelle Hall and Kris McIntosh, FWISD Project FLAG Coordinator and retired Social Studies Teacher.

Meg Hacker secured funding from the National Archives to underwrite the teacher contracts. Barbara Rust, Southwest Region Senior Archivist, and Archival Technicians Aaron Holt, Melinda Johnson, Beverly Moody and Nigel Parker provided assistance with primary source document retrieval and scanning, technical assistance, and/or resource duplication.

The Sid Richardson Museum provided funding to hire Mitch Geller and Kelly Hart of NU-Design to design brochures, a template, and make ART & ARCHIVES accessible via the web at www.artandarchives.org. Mary Burke edited lessons and drafted the framework for the ART & ARCHIVES Teaching Resource unit. The Museum printed brochures and current Director of Education Outreach Rebecca Martin provided resources and reviewed materials.

ART & ARCHIVES incorporates educational materials from the Digital Classroom, the National Archives gateway for resources about primary sources, activities and training for educators and students, available online at http://www.archives.gov/education/.