Home
About Art & Archives
About Sid Richardson Museum
About the National Archives
Primary & Secondary Sources
Lesson Plans
Vocabulary
Painting Analysis Worksheet Contact Us
Reference Websites
Bibliography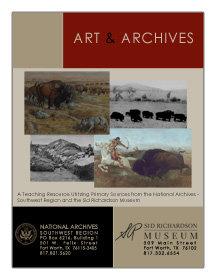 Click the cover image above to view and download the complete 2006 ART & ARCHIVES Lesson Packet

Primary and Secondary Sources
What are primary sources?
Primary sources are original records created at the time an event occurs, or after the event in the form of memoirs or oral histories.
What are some examples of primary sources?
Letters, manuscripts, diaries, journals, newspapers, speeches, eyewitness accounts, songs, interviews, memoirs, auto biographies, creative works, documents produced by government agencies such as Congress or the Office of the President, photographs, audio recordings, moving pictures or video recordings, research data, and objects or artifacts such as works of art or tools or weapons are primary sources.
What is a secondary source?
Secondary sources are usually written after an event has occurred. Secondary sources assign values to, analyze and draw conclusions about events reported in primary sources. Examples include textbooks, commentaries, biographies, and history books written by scholars.
Why use primary sources?
Primary sources are the raw materials that help us interpret the past and provide the resources necessary for historical research. Modern historians prefer to use primary sources, if available, because primary sources offer new input on historical questions.
Primary sources
establish a sense of time and place
provide information about the past
reflect the times during which they were created
illustrate important issues, events, and individuals
express a point of view about issues
describe traditions of racial and ethnic groups
depict characteristics of places in, and regions of, the United States
illustrate relationships among people from various racial and ethnic groups, and
communicate the history of the United States.
Where can I find primary sources?
Students and researchers now have greater access to primary source materials for historical research. The traditional use of sources in print and microfilm continues to be the foundation for research, but in some cases documents, letters, maps, photographs of ancient artifacts and other primary material are available online.
How do I use primary sources with my students?
Think of primary sources as a point of departure. Begin by taking inventory, move to an analysis of the source's content, author, and purpose, and then consider how the source reflects the time in which it was produced, as well as how it might be read today. What stories do these primary sources tell? An investigation of the primary sources included in ART & ARCHIVES will hopefully provoke thought, spark questions and yield insights into interpreting our nation's past.