Home
About Art & Archives
About Sid Richardson Museum
About the National Archives
Primary & Secondary Sources
Lesson Plans
Vocabulary
Painting Analysis Worksheet Contact Us
Reference Websites
Bibliography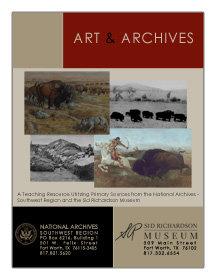 Click the cover image above to view and download the complete 2006 ART & ARCHIVES Lesson Packet


The National Archives and Records Administration Mission
– The National Archives and Records Administration ensures, for the citizen and the public servant, for the President and for the Congress and the Courts, ready access to essential evidence.

NARA serves American democracy by safeguarding and preserving the records of our Government, ensuring that the people can discover, use, and learn from this documentary heritage. We ensure continuing access to the essential documentation of the rights of American citizens and the actions of their government. We support democracy, promote civic education, and facilitate historical understanding of our national experience.
National Archives and Records Administration – Southwest Region

PO Box 6216, Building 1
501 West Felix Street
Fort Worth, Texas 76115
Main: 817.831.5620
www.archives.gov/southwest/index.html


Director, Regional Archives
National Archives and Records Administration Southwest Region
Meg Hacker

meg.hacker@nara.gov
817.831.5643
Click here for a printable map.